Welcome to our latest blog post on creating a winning content marketing plan for your business. As we all know, content marketing is an essential part of any modern-day business. It's your way of communicating with your target audience, building brand awareness and driving sales. However, creating a successful content marketing plan can be both challenging and time-consuming, especially if you're new to the game.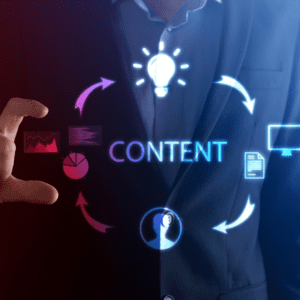 That's why we've put together this guide to help you build a content marketing plan that works for your business. Whether you're just starting out or looking to improve your existing strategy, we've got you covered. So, let's get started with the four steps to create a plan for success, defining your goals, identifying your audience, creating a strategy and measuring your success!
Defining Your Content Marketing Goals
Content marketing is a vital aspect of any business marketing strategy. However, before diving into creating content, it's essential to have clear cut goals in mind. One of the primary objectives of content marketing is lead generation. Defining your lead generation goals will provide a framework within which you can create content that will help achieve those objectives. 
Well-defined lead generation goals will help you create content that is tailored specifically to attract, engage, and convert potential leads into customers. With a clear content marketing strategy centered around lead generation, you'll be able to create informative and engaging content that resonates with your target audience – leading to increased web traffic, more qualified leads, and ultimately, more revenue for your business.
Thus, when setting your goals for content marketing, it is important to take into account the demographics of your target audience and the desired outcomes you want to achieve. Your goals should be specific, measurable, attainable, relevant, and time-bound. Moreover, actionable steps should be taken to reach these goals, keeping social media marketing in mind, as it is an indispensable tool in today's digital age.
Social media platforms provide a great opportunity to boost your content marketing efforts by increasing brand awareness, generating leads, and engaging with your audience. Setting measurable milestones will help you track progress and make necessary adjustments along the way. Remember that content marketing is a long-term strategy that requires patience and consistency, but when done right, it can yield immense benefits for your business. 
Identifying Your Audience and Understanding Their Needs
Content marketing is a powerful tool to connect with your audience and drive engagement with your brand. However, to be successful in this strategy, it is essential to identify who your audience is and understand their needs. This means taking the time to define who your content is geared towards and tailoring it to meet their individual interests and preferences.
By doing so, your content will become more valuable, engaging, and relevant to your target audience, resulting in not only increased engagement but also improved brand awareness and conversions. In brief, content marketing can be a game-changer for businesses today, provided they take the time and effort needed to truly understand their audience and deliver content that resonates with them.
By researching their demographic, interests, and habits, you can craft messages that will resonate with them and address their specific needs. Additionally, identifying potential pain points can help you create content that provides solutions and adds value to their lives. This research process not only helps you develop more effective content, but also builds stronger relationships with your audience
Consistently providing content that speaks directly to their interests and concerns allows you to establish yourself as a trusted resource and grow your customer base over time. Remember, content marketing is not just about creating content, it's about creating content that your audience will find truly useful and engaging.
Creating an Engaging Content Strategy
Content marketing is all about understanding your target audience and using innovative ways to create a lasting impact on them. Once you have identified your audience, it is essential to formulate a content strategy that will resonate with them. The use of different types of media like videos, webinars, podcasts, and blogs can be effective in engaging with them.
However, one channel that cannot be overlooked is email marketing. It is a cost-effective method that allows you to reach out to your audience directly and build a long-lasting relationship with them. With a well-thought-out content marketing plan, including email marketing, you can reach your audience's hearts and minds, garner their loyalty, and ultimately convert them into customers.
Measuring Your Content Marketing Success
Content marketing is a powerful tool for businesses to attract and engage customers. But how do you measure the success of your content marketing efforts? It all starts with identifying what metrics are most important to your business objectives.
Are you looking to drive website traffic, generate leads, or increase conversions? Once you have a clear understanding of your goals, you can begin tracking metrics like website traffic, social media engagement, lead generation, and conversion rates to gauge the effectiveness of your content marketing strategy. Regularly analyze these metrics and you can identify areas for improvement and make data-driven decisions to optimize your content marketing initiatives. 
It's important to establish baselines for each metric before you start your content marketing campaign to provide a better understanding of what works and what doesn't. This data will help you assess whether or not your efforts have been successful and determine which strategies to implement moving forward. With the right approach, content marketing can deliver significant value to your business, but it requires careful planning and monitoring. By using data to inform your decisions, you can create a successful content marketing campaign that attracts and engages your target audience.
Creating a winning content marketing plan is no walk in the park, but it's well worth the effort. By following the steps we've outlined and consistently producing high-quality content that resonates with your target audience, you can drive traffic, generate leads, and ultimately grow your business. Remember to keep your goals in mind and adjust your strategy as needed to ensure you're always on track. With dedication and perseverance, you can create a content marketing plan that will set you up for long-term success. Good luck!